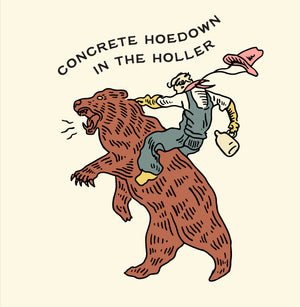 2023 Concrete Hoedown in the Holler / October 27-28 / McEwen, TN
Sale price Price $300.00 Regular price Unit price / per
Now is the perfect time to secure your spot at the 2023 'Concrete Hoedown in The Holler,' a two-day event that serves as a pilgrimage for concrete enthusiasts. It's not your typical formal training workshop, but rather an informal gathering where we come together to engage in the hands-on activities of mixing, casting, curing, and sealing concrete. This event is like a warm embrace, welcoming both old and new friends to enjoy cold beer, savor delicious BBQ, engage in target shooting, share stories around a campfire, and, most importantly, celebrate our shared passion for concrete. It's a soul-reviving experience set in the picturesque hollers of Tennessee, offering cool mornings and crisp evenings that add to the charm.
Hosted on the property of renowned concrete artisan Dusty Baker, this event takes place in an idyllic location during a beautiful time of the year.
Everyone is invited, regardless of the products you prefer, or your past training experiences! Ultimately, we are all part of the same tribe united by our love for concrete. We sincerely hope you'll join us in this unique celebration.
Event Date:
October 27th and 29th, 2023
Event Location:
StoneCrete Artistry
711 Johnson Hollow Rd
McEwen TN 37101-4246
United States
Event Time:
9:00 AM - Evening
Airport:
BNA, Nashville International Airport
Cancellation Policy:

In the event you are unable to attend the 'Concrete Hoedown in the Holler', the registration fee will be refunded in full. 
T-Shirt Sizing:
Please note, the t-shirts are a "fitted" style, which means they run a bit slim. Take that into consideration when choosing your t-shirt size, you're not as young as you once were ;)